Day 2, Tuesday, August 6, 1996
---
Today began with a Mexican style breakfast prepared by the Chef at Arctic Watch. We should correct an injustice in forgetting to mention the previous night's superb and exotic meal which included fiddle heads and musk ox.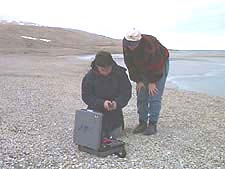 Becky Clayton-Boswell and Wade Hong working with MSAT®
A group including an underwater film crew from Japan departed by Twin Otter in search of whales near Conningham Bay. Unfortunately, we had been informed on Sunday evening prior to our departure by Don Sandford that the whales were no longer in Cunningham Inlet near Arctic Watch, so our chances of seeing whales would not be good. We learned later during the evenings lecture that the lack of whales in Cunningham Inlet was due to the early ice breakup along the Northwest Passage which allowed the whales to migrate a bit further south along Peel Sound and Prince Regent Inlet.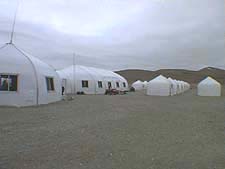 The Arctic Watch tents

For the better part of the morning we lounged around at the wonderful Arctic Watch facilities, occasionally strolling out to take in the picturesque view and to monitor the performance of the solar panels we are relying on to provide us with power when we move on to the second leg of our adventure, the Soper River.

The Unnamed Waterfall

In the afternoon we joined a film crew to see a beautiful waterfall to the southwest of Arctic Watch. The trek to the falls was provided by ATV taxis across the limestone shale courtesy of Matt and Joannie. The picturesque falls and valley jaggedly carved through the shale offered a beautiful backdrop for the television commercial the New York based film crew was filming in and around Arctic Watch. At the base of the falls and valley, the water was a beautiful and tranquil aquamarine. We took the opportunity to shoot a few Quicktime VR panoramas. As I would later learn from Pete Jess, this waterfall has yet to be named. It appears this is true of most areas in the high arctic. So here may be an opportunity to name a unique landmark!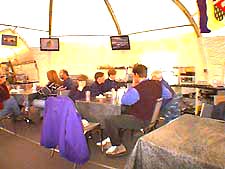 The Arctic Watch dining hall

During a delicious supper of New Zealand orange roughy, we were given an explanation of the symbols of the flag of the Northwest Territories by Ted Jess. Following supper was a video presentation describing the frenzy feeding of cod by beluga whales and a very informative lecture by Catherine of the Vancouver Aquarium on beluga whales.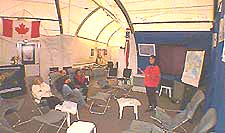 Catherine and the lecture audience

Experiencing the midnite sun is really amazing. With 24 hours of sunlight, it is also difficult to convince oneself that it is time to catch some sleep, which we must now do!

---
Mail us on our actic adventure at: adventur@physics.carleton.ca.
---

These Web pages designed by the Arctic Adventure Webmaster