Day 1, Monday August 5, 1996
---
I wish that I could say that this trip was impeccably organized and all would go without a hitch, but we nonetheless were relieved to see things finally get underway. It was bright and early in the morning when we arrived at the MacDonald Cartier International Airport to catch the 7:00 AM First Air flight to Resolute via Iqaluit and Nanisivik. The plane was a Boeing 727 combi which was modified to handle passenger and cargo. The passenger capacity departing Ottawa was 31. We appreciate the airfare assistance that First Air has provided to us and wish them well on their 50th anniversary.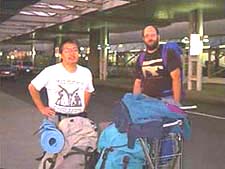 Wade and Don at the MacDonald Cartier International Airport
Our first stop was Iqaluit. We deplaned for about an hour. Immediately we noticed the difference between the humidity and heat of Ottawa and the 5 degree Celcius of Iqaluit. With cargo left behind, the seating capacity of the First Air combi was now 54 and remained so, to Resolute.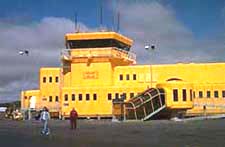 Iqaluit Airport

The next stopover was Nanisivik (Arctic Red Bay) located on Northwestern Baffin Island. The ambient temperature was closer to zero but the wind chill certainly made things a bit more interesting. The Nanisivik airport, a small building was reminiscent of a small town bus terminal. However, the views are much more overwhelming and awe inspiring.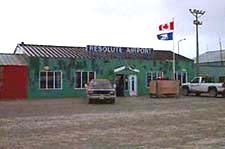 Resolute Airport

The final leg to Resolute, which is about 200 km from the Magnetic North Pole took about 45 minutes. At one point it was not certain that we could land due to inclement weather. However, things had cleared up.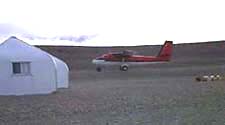 Twin Otter at Arctic Watch, Somerset Island

After a few hours spent at the Resolute airport, we were taken on a 20 minute hop to Arctic Watch by Twin Otter operated by Kenn Borek Air to our final destination, Arctic Watch, located on Somerset Island.
We were greeted by Pete Jess, the Jess family and the Arctic Watch family who immediately made us feel at home. The Arctic Watch facilities are just outstanding with great attention to comfort.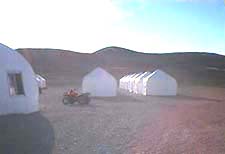 Ecotourism Lodge on Somerset Island

The temperature at Arctic Watch was hovering around freezing with a good strong wind blowing. It is quite a contrast from the heat wave back in Ottawa. After a quick orientation tour by Judy and Ted Jess we were settled down in a very cosy and quite comfortable little room in the staff quarters. After unpacking the gear we made a few tests of the MSAT Communicator unit supplied by TMI Communications and was pleasantly surprised to find that the signal strength was the best we had encountered. However, our tests demonstrate that even in the most remote areas, we are not immune to the follies of modern conveniences. Of the several calls we attempted, we had gotten an answering machine!
Part of the Arctic experience is the journey, actually getting there. Certainly, to travel this distance, Arctic Watch is a worthy destination!

---
Previous | Home | Next
Mail us on our actic adventure at: adventur@physics.carleton.ca.
---

These Web pages designed by the Arctic Adventure Webmaster