Day 10, Wednesday, August 14, 1996
---
Cloudy and cool today, but no rain. A good day to travel, but, unfortunately, not to charge batteries. We have plenty of food and fuel, but we are running low on batteries. Not a concern on most canoe trips. But this is no ordinary canoe trip!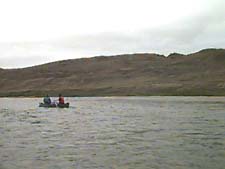 On the water again
The river really took off today ... sweeping us down some fun rapids. Lots of caribou on the ridges, watching us paddle by. At the junction of the Livingston River, we stopped and walked up to the falls. Caribou crossed the river just below the falls. They all cross in the same direction, just as they did the previous days at the group shelter ... like they're all heading somewhere ... like a big party. We took the requisite photos of Livingston Falls - a sheet of green and white water falling over brown rock - we watched one caribou cross. Dan hid in the willows near where they crossed ... and got some great video.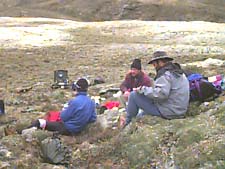 Lunch near the Soper

We stopped for lunch where a ridge of light grey rock spelled down to the river. It stood out clearly from the dark mountains around it. At lunch, we got out the MSAT communicator. The phone rang ... for Wade. It was the producer of Morningside ... and he and Wade arranged to do an interview tomorrow morning. This is pretty exciting!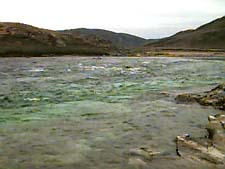 The green water of the Soper River

After lunch we hiked up the white ridge and down into a small canyon. There were boulders coloured bright orange, bright white, some with an irridescent sheen. Waterfalls skid down polished white cliffs. Seams of mica were sandwiched in the white rock. Wow! Our packs are all heavier now.
We're camped in a grassy swale where a small stream enters the Soper, sheltered from the wind. A patch of cotton grass waves in the breeze. Tomorrow, we'll try to charge batteries.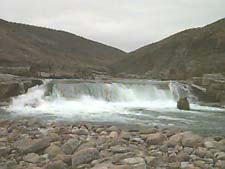 Livingstone Falls

This land amazes me. It is so open, it gives one a sense of freedom and elation that fills you full of energy. One can see long distances and big skies. There are no trees or buildings to distract the view. And it's silent. When the wind blows, there are no trees for it to whistle through. The land whispers. The water is clear, clean and cold. No one uses the drink crystals. The water tastes great just as it is. The air is fresh and clean. The rocks are clean. The earth is clean. It makes you think of how the world once was, and how much we have lost.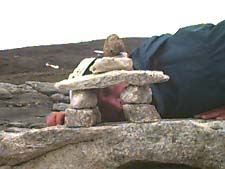 Mini Inuksuk with Max

Supper tonight was Italian ... spaghetti with tofu and vegetarian meatballs in a tomato sauce, with herbed bannock and no bake cheese cake.
Today's installment of the travelogue is by Max Finkelstein.
---
Previous | Home | Next
Mail us on our actic adventure at: adventur@physics.carleton.ca.
---

These Web pages designed by the Arctic Adventure Webmaster