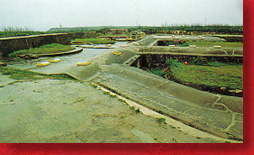 [ Address ] Lot No.278, Wai An Village, Hsi-yu hsiang, Penghu County
[Construction Date ] 1886
This fort was built in the year 1886 by Liu Ming-ch'uan(the famous official who single-handedly carried out an extensive program of modernization and reform in Taiwan throughout the 1880's and early 1890's)who intended it to serve as an important node in the island's sea defenses.
In the year 1884, war had broken out between China and France, and in March of 1885 Penghu was occupied by the French under Admiral Courbet. Taiwan itself was on the verge of collapse, and it was saved from being taken only because of Liu's arduous efforts on behalf of its defense.
Soon after the Sino-French Incident, the Ch'ing government declared Taiwan a full province of the Empire(in January 1886; earlier, the island had been administered as a part of Fukien), having come to regard its stability as crucial to the security of South China. Liu Ming-ch'uan was duly appointed the island's first governor; calling attention to the importance of upgrading the island's defense system, he requested the authorities to assign a Chief Military Office to the provincial government, and proceeded at once to take charge of the task of strengthening Taiwan's defenses. At this time a network of ten forts was constructed at various points throughout Taiwan; four were located in Penghu. The construction of this fort, which was on an unusually large scale, was completed in the summer of 1886.

Front gate of the entire enclosure wall is marked by this massive stone arch. Above the gate is engraved a tablet with the words, 'Hsi T'ai of the Western Isles,'from the writing brush of the famous Ch'ing diplomat and statesman Li Hung-chang(1823-1901).

View of tunnel interior. Double semi-circular vaulting was constructed in red brick, and then plastered with stucco. A sequence of skylights provides a light source.

[Pavilion of Taiwan, R.O.C]
[Council For Cultural Planning & Development]
[Government & Public Service Pavilion]
[Education]
[Science & Research]
[Transportation & Communications]
[Industry]